Thank You for Your Service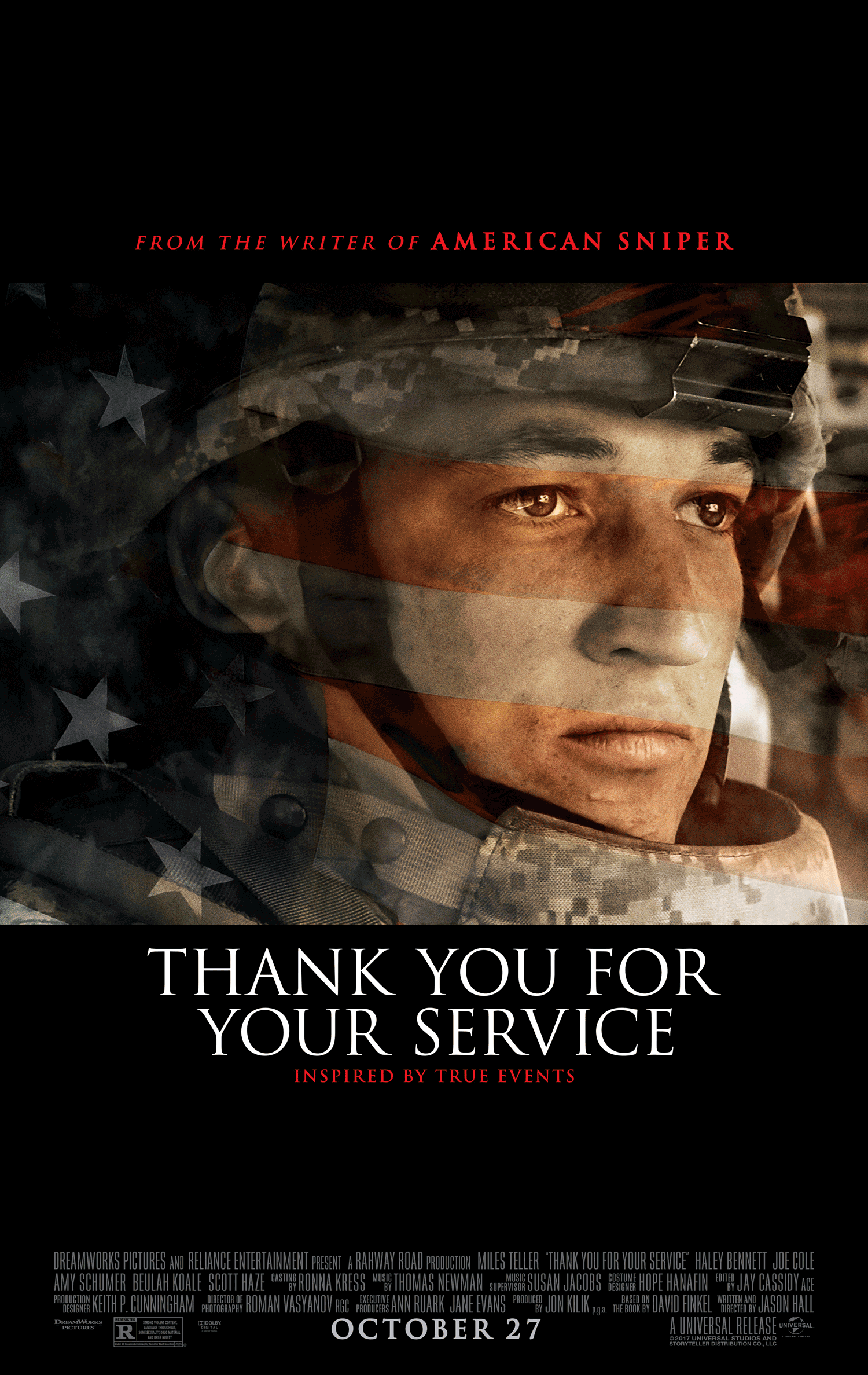 Thank You for Your Service
DreamWorks Pictures' Thank You for Your Service follows a group of U.S. soldiers returning from Iraq who struggle to integrate back into family and civilian life, while living with the memory of a war that threatens to destroy them long after they've left the battlefield.

Starring an ensemble cast led by Miles Teller, Haley Bennett, Amy Schumer, Joe Cole, Beulah Koale, Scott Haze, Keisha Castle-Hughes, Brad Beyer, Omar J. Dorsey and Jayson Warner Smith, the drama is based on the bestselling book by Pulitzer Prize-winning reporter and author David Finkel.

Jason Hall, who wrote the screenplay of American Sniper, makes his directorial debut with Thank You for Your Service and also serves as its screenwriter. Jon Kilik (The Hunger Games series, Babel) produces the film, while Ann Ruark (Biutiful) executive produces.
Official Website
Cast & Crew
| | |
| --- | --- |
| Cast | Miles Teller, Haley Bennett, Joe Cole, Amy Schumer, Beulah Koale, Scott Haze, Keisha Castle-Hughes, Brad Beyer, Omar J. Dorsey, Jayson Warner Smith |
| director | Jason Hall |
| writer | Jason Hall |
| Based on the Book by | David Finkel |
| producer | Jon Kilik |
| Executive Producers | Ann Ruark, Jane Evans |
Cast & Crew
| | |
| --- | --- |
| Cast | Miles Teller, Haley Bennett, Joe Cole, Amy Schumer, Beulah Koale, Scott Haze, Keisha Castle-Hughes, Brad Beyer, Omar J. Dorsey, Jayson Warner Smith |
| director | Jason Hall |
| writer | Jason Hall |
| Based on the Book by | David Finkel |
| producer | Jon Kilik |
| Executive Producers | Ann Ruark, Jane Evans |
Thank You For Your Service - In Theaters October 27 - Official Trailer (HD)
Thank You For Your Service - A Look Inside - In Theaters October 27 (HD)